Missed out on 2020 agenda? Download the program to find out what we discussed!'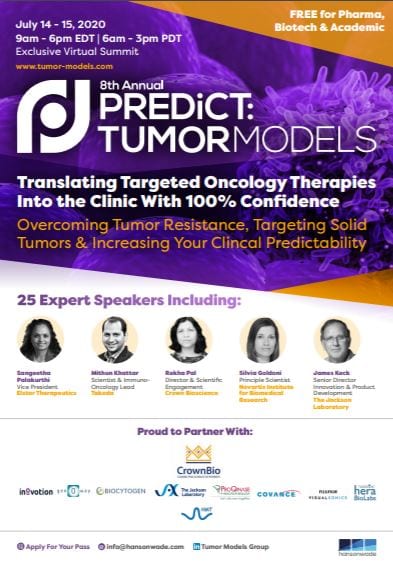 Download the Virtual 8th PREDiCT: Tumor Models Summit Agenda
The progression from the preclinical and translational oncology community grows tremendous amounts year on year. It is essential to share both challenges and opportunities to ensure continued preclinical success and first-in-human trials.
This is your chance to gain need-to-know updates and exciting insights from pioneers of the preclinical oncology field.
Ensure you can enhance your solid tumor validation, improve translation and predictability and optimize your immune-oncology target to ensure a smooth development process for a quality, safe and effective anti-cancer drug.
Download the Event Guide to discover:
How to leverage classical pre-clinical models to ensure a robust clinical design, model tumor metastasis and effective sensitivity testing
How to effectively model the tumor micro-environment to increase predictability and transferability of your novel oncology candidate
How to harness next generation organoid technologies to reduce false negatives, advance therapeutic efficacy and classify checkpoint inhibitors